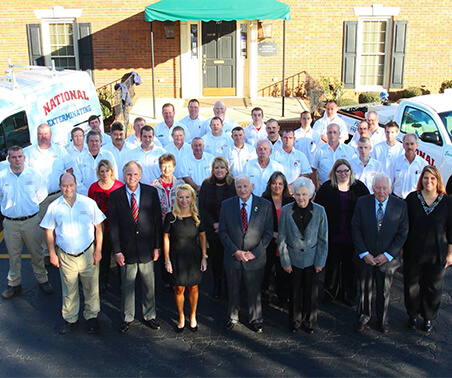 There are few things more disappointing than being hit with a house repair bill unexpectedly. Termites are the silent killers of materials like wood in your home and its foundation. Mitigate the risk and trust the professionals at National Exterminating to get the job done.
What Are Termites & What They Do
Termites are social creatures that live in swarms of hundreds to millions of their family members and are incredibly common in Middle Georgia. They're constantly in search of cellulose food sources in order to grow their colony. A termite colony utilizes these highly specialized members:
Workers
Soldiers
Reproductives
The Queen
Termites live underground, often invisible to the human eye until it's too late. They thrive in a moist, temperature-stable environment, making under your house or soil an ideal home in Middle Georgia's climate. Just because you can't see them doesn't mean they aren't there! Turn to the experts at National Exterminating for a termite inspection to be safe rather than sorry.
Damage Caused
Each year in the United States:
More than 5 million residences are affected by termite damage
Approximately $5 billion in termite property damage is caused
Termite damage outweighs damage cause by fires, storms, and earthquakes
Homeowner's insurance rarely covers termite damage to your home
Industry Standard Products
Committed to serving our customers the best we can, National Exterminating utilizes the industry standard products Termidor and Sentricon, both of which are incredibly effective at killing termites in Middle Georgia.
Termidor is a liquid treatment, undetectable by termites. They come into contact with the solution, inject and spread the liquid, which inevitably kills them. Sentricon is a baiting system used to attract and enter the termite's food chain. This lethal additive causes the termites to die immediately.