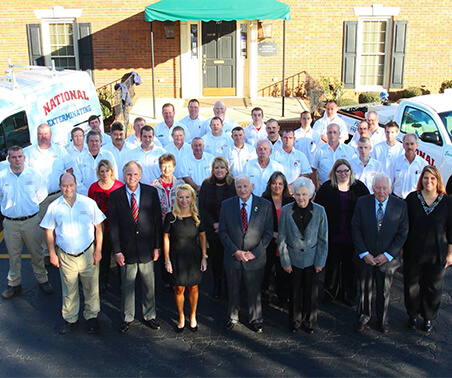 National Exterminating Has You Covered!
Whether you need to rid your home of bothersome pests, keep your business free of insects and rodents, or prevent a future termite infestation, National Exterminating in Milledgeville, Georgia has the products and expertise to manage your pest control needs.
From our beginnings as a small exterminating company in Warner Robins, we've grown to offer industry-leading pest and termite control options throughout Middle Georgia, including Milledgeville. Our professional team is ready to tackle your pest control problem quickly, safely, and affordably.
Full-Service Pest Control in Milledgeville, Georgia
From the studied halls of Georgia College to the scenic outdoor views and recreation opportunities on Lake Sinclair, there are plenty of reasons for people to come to Milledgeville, Georgia. Unfortunately, there's also plenty here to attract ants, roaches, rats, and hundreds of other insects, rodents, and other unwelcome visitors.
Get Rid of Pests for Good!
Our treatment options can eliminate any of the most common pests that invade homes and businesses in and near Milledgeville, Georgia. When you trust National Exterminating to handle your pest control needs, we treat you like family, and we're not satisfied until your home or business has been completely cleared of:
Ants
Ants are a nuisance almost anywhere they turn up. Fire ants deliver a painful sting, Pharoah ants carry disease, carpenter ants can do significant damage to a home, and even the relatively harmless Argentine ant can invade a home with numbers in the thousands in their search for food and water.
With careful management and the right extermination plan, National Exterminating can wipe out the ant threat and take steps to keep the tiny bugs at bay.
Roaches
Even if they didn't carry disease and trigger allergy and asthma attacks, roaches in your home or business would never be welcome. With several common species living in Middle Georgia and carrying pathogens including Salmonella, E. coli, staph, and strep, roach control is a big part of what we do.
Our monthly, bi-monthly, and quarterly services can get the nasty creatures out of your house and help keep them out for good.
Spiders
Most spiders in Georgia are entirely harmless, and nearly all are beneficial, eating mosquitoes and other dangerous pests. But we would prefer it if they'd do their work outside, not inside where we're trying to live our lives without their creepy presence.
Our spider control service includes an all-natural repellent that's safe around families and pets, as well as the removal of all spider webs and cobwebs in and around your home.
Bed Bugs
Your bed should be a comfortable, welcoming place for you to rest – not a comfortable, welcoming place for bed bugs to nest. While these tenacious insects can be found anywhere humans live, getting rid of them takes a thorough game plan and attention to detail.
If you have a bed bug infestation, National Exterminating can use either a steam treatment or conventional pest treatment to let you get a good night's sleep again.
Centipedes & Millipedes
In addition to being pretty ugly and creepy, neither centipedes nor millipedes are good house guests. Centipedes can give a painful bite, and millipedes can excrete a toxic liquid that irritates the skin and eyes. While they're great at eating insects and other pests, they need to remain outside.
With our treatment options, you can send these myriapods packing and keep your home or business pest-free.
Silver Fish & Earwigs
Silverfish and earwigs are not dangerous as much as they're bothersome. While the silverfish can't harm humans, their tendency to get everywhere is problematic. Earwigs are more of a pain, emitting a foul-smelling liquid when they're disturbed.
National can provide monthly, bimonthly, or quarterly services to keep silverfish and earwigs under control.
Pest Control Services to Fit Your Needs and Budget
If you need pest control services, National Exterminating has a plan for you. Our team offers recurring pest control services personalized to your home's or business's needs. When you choose National, you can pick from three service levels:
Monthly Service
With 12 visits a year, this is the most aggressive option available, as our team visits once a month to keep your pest control up-to-date.
Bi-Monthly Service
If monthly service is not the right pick, we offer bi-monthly service. Our six visits each year will keep insects and other pests under control.
Quarterly Service
Our most affordable option includes four visits a year, once per season, to keep your home or business pest-free.
All of our recurring pest control services include a guarantee that covers your home or business until our next visit: if you encounter a pest control issue in the 30, 60, or 90 days between treatments, contact us, and we'll re-treat the problem area at no cost to you.
Service Anywhere You Need It
Residential Pest Control
If pests have taken up residence in your home, National has the tools and expertise to make your house your home again.
Commercial Pest Control
If your business has a pest issue, don't let it affect your bottom line. Contact National for commercial pest control for your professional, retail, or industrial space.
Termite Control in Milledgeville, Georgia
The above pests are indeed a problem if they invade your home. But is anything more terrifying to a home or business owner than the thought of a substantial repair or restoration bill thanks to termites?
Even before Milledgeville, Georgia was home to our great state's capitol, it was home to termites. According to researchers' estimates, an average of 8-10 termite colonies can be found on each acre of land in the southeast. Each colony is home to between 100,000 and a million wood-destroying termites.
Living underground and usually leaving little or no evidence of their presence until it's too late, termites are responsible for more damage to American homes each year than fires, storms, and earthquakes combined. Even if caught early, even a short-lived infestation can cause significant damage to a building's wooden structure.
With termites, the best defense is a good offense, cutting off the insects' access to your home before they find it. Fortunately, National Exterminating uses the industry's top two tools for fighting off the costly invaders and keeping them gone for good: Termidor and Sentricon.
Termidor: The Stealth Fighter
Our preferred treatment for homes and businesses with an active termite infestation, Termidor is a high-potency, stealthy weapon in our fight against wood-destroying organisms. This liquid treatment is applied along the base and around the perimeter of a building's foundation.
The treatment then seeps into the soil and binds with it, becoming entirely undetectable by termites. If a termite, unaware of the Termidor, ingests even a tiny amount of the pesticide, it becomes a carrier and brings the product back to the colony.
Termidor then acts like an infection in the colony, jumping from termite to termite and wiping out the entire colony quickly and effectively.
Sentricon: A Tempting Terminator
Sentricon is an award-winning, environmentally sound option used to protect more than 3 million homes and businesses in the US, including the White House. When you choose Sentricon, a National Exterminating termite control expert will place underground bait stations around your home or business. These stations are completely safe and pose no hazard to your family or pets.
Each bait station contains a bait that termites prefer 10-to-1 over wood. The termites eat the bait, which contains a chemical that halts the molting process. The chemical allows the termite to live long enough to bring the bait back to the colony to share – speeding up the elimination of the colony and eradicating the threat.
Once per year, one of our team members will visit your home and refresh the bait stations, keeping the threat under control for another 12 months.
How to Spot a Termite Infestation
Regardless of where in Milledgeville or Baldwin County, Georgia you call home, a termite infestation can mean more than just a repair bill – it can be a health and safety hazard for you, your family, your employees, or your customers. If you see any of the following signs, contact us right away to schedule a free consultation and estimate:
Buckling or blistering wood floors
Wood that's been hollowed out or covered in tunnels and holes
Mud tunnels on your foundation or exterior walls
Swollen or bulging drywall
Wood dust or "frass" (termite droppings)
Piles of discarded termite wings
Service Throughout Middle Georgia
Protecting Local Homes and Businesses Since 1974